Zach Braff took the stage to present Fox News correspondant John Gibson with the Lifetime Achievement Award.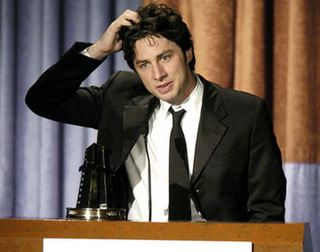 Unfortunately, Braff didn't have any prepared remarks. So he just stood around looking befuddled for a few minutes, bugging his eyes out as he does every week on his mystifyingly popular TV disaster "Scrubs," before it was announced that Gibson would not appear. Then he left the stage to hang out with his model friends and discuss the subtle nuances of Garden State with one of the film's biggest fans, Satan, backstage.

So, without has cooperation, and being unable to find any quality pictures of John Gibson on the Net, I will provide you with a photo of his mental equivalent.




As Gibson was unable to attend the show, Mustard Man graciously accepts the award in his place.

Then it was time for the rousing musical number, before the presentation of the Worst Person Alive Award. Ladies and Gentlemen, I give you the Black Eyes Peas! They've got some songs to sing about how we ought to all stop fighting and love one another and, once that's been taken care of, how we ought to get retarded in here.




I have to say, even though her band completely stinks, that girl Fergie has some amazing abs. I'm hoping she'll let me, like, touch them or something back stage. If she isn't already hooking up with Satan. Don't ever invite that guy out on a Saturday night...he steals all the ladies' souls and bogarts all the weed. He's like the Dark Prince of Party Fouls.

Only one more update to go...and it's the big one. The Winner of the 2005 Braffy Award for the Worst Person Alive!