After his Don Quixote adaptation fell apart due to circumstances out of his control, director Terry Gilliam dove right into another project. It's a major studio script that had been bouncing around called The Brothers Grimm, by a screenwriter named Ehren Krueger, best known for his American adaptation of The Ring.

I'm a huge fan of Terry Gilliam's films. He hasn't made a movie I don't like, and several of his works, like Brazil or Twelve Monkeys or Fear and Loathing in Las Vegas rank among my favorites. So I'm excited any time he has something new coming out. But most Gilliam fans I've spoken to seem lukewarm on this idea. They're either more excited about Tideland, another upcoming Gilliam film shooting now in Canada, or still sour about the failure of his Don Quixote project to get off the ground.

I guess it's because the film stars Matt Damon and Heath Ledger. They're not exactly the darlings of the indie hipster film dork set that typically salivates over a new Terry Gilliam film. Or it could be because the film is so mainstream. It's written by the guy who did The Ring and its sequel (and also the reprehensible third Scream movie). It's starring movie star pretty boys. And it's plot isn't exactly the twisted chaos of 12 Monkeys. Two charlatans ride around Medieval England pretending to kill imaginary monsters. But when they stumble upon a town where real children are disappearing, they must actually solve a supernatural puzzle.

Yeah, it ain't Time Bandits. In fact, it's the exact same story as Galaxy Quest, which itself repeated the same story from Three Amigos. Which probably ripped off some other film, but my knowledge of middle-of-the-road PG comedies only goes back so far.

I'm still eagerly looking forward to the movie. Gilliam has never once disappointed me, and I see no reason why he's lose his vivid imagination or splendid eye for fantastical imagery just because he's taking on a mainstream studio production.

Anyway, today on Ain't It Cool News, I found this link. It's an interview with the Production Designer for Brothers Grimm, Guy Dyas reposted on the Gilliam fan site Dreams. And it includes some incredible early designs and sketches by Dyas and Gilliam himself (who started as the animator and cartoonist for Monty Python...duh...)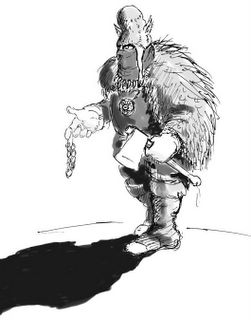 That's a Gilliam original sketch for a character named The Woodsman. Kind of an unfortunate name for a fairy tale character, considering the nature of the Kevin Bacon film The Woodsman from late last year (he was a pedophile). But, still, a very cool looking design. I just want to see more movies with characters that look like that. Considering the state of film technology, there's surprisingly little real visual imagination in film today. I'm tired of CGI used only to make bigger and more fully realized explosions...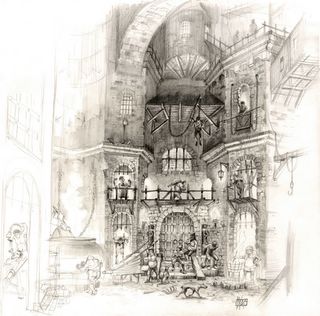 This was my favorite image from the whole article. You should probably click on it to biggify, so you can see the detail of what I'm talking about. This is a sketch for a set of a massive dungeon the Matt n' Heath will visit during their mystical quest. I so damn sold on this movie. A Terry Gilliam movie set in the Middle Ages with troll-like monsters and dungeons? Akiva Goldsman could have written this thing and I'd want to go see it!

Akiva Goldsman? The worst working screenwriter today? He scripted Batman and Robin, people, and then a few years later, you gave him an Oscar. For A Beautiful Mind, the dippiest, most shallow film about mental illness in a generation.

But that's a rant for another column.

Here's a Dyas design for a village that plays a major role in the film.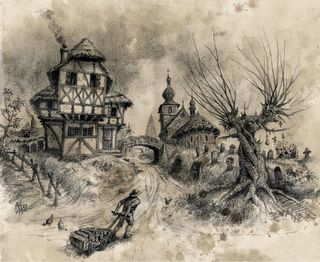 Oh, man, this movie needs to come out right now! Can I download it somewhere or something, or possibly upload it directly into my brain? When will Sony design a handheld for that! Then maybe I'll shell out my $250.