That's the name of the 15,000 page unpublished novel by Henry Darger, a Chicago janitor who spent the bulk of his life silently composing art about an imaginary war in a fantasy land of his own design. He never got to know anyone well, and made only one real friend. Even children, whom he claimed in his writing to love above all else, had no place in his reality. There exist only three pictures of the man.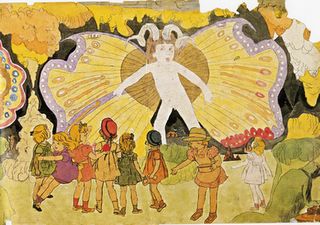 Jessica Yu's documentary on Darger, nominated for a Grand Jury Prize at last year's Sundance Film Festival, doesn't really attempt to explain Darger's work or life. The film acknowledges the unknowable aspect of a life led in isolation. Darger never attempted to show his art or writing to anyone, and though the written manuscript itself seemingly aspires to one day be absorbed by the multitudes, Darger himself had no interest in gaining the attention of other people. According to those who knew him, his constant refrain was "leave me alone."

Rather than open Darger up for psychoanalytic or sociological interpretation, Yu focuses on the known events of Darger's life and how they relate to the ongoing events in his Unreal universe. Though it's impossible to listen to the fictional stories Darger composed and not connect their events to his autobiographical details, there's a constant sense of mystery to Yu's narrative. Just as Henry Darger himself didn't allow anyone inside the private world of his imagination, Yu's film refuses us total access.

In addition to the three still images of Darger himself, we see the panoply of acquaintances who assisted him during his final years. There's the friendly couple who rented out the apartment in which he lived and created his artwork, and the neighbor who lived just across the way. Also, an altar boy who saw Darger at Daily Mass, which he attended, well, religiously. They provide a vague and often inconsistent account of the man. At one point, we hear from different sources that Darger always sat in the front, middle and back of his local church.

While we in the audience are looking with wonder at the man's impressive volume of work, those around him had no sense that the quiet janitor with the odd habits was special in any way. He was just another lonely old bachelor, roaming the streets around Lincoln Park, dressed like a homeless person, living in poverty. How is it possible, the film seems to ask us, that someone with so much to say never felt the need to actually speak?

The content of Darger's work is disarmingly odd, and actually can be quite creepy. The narrative concerns a brutal ongoing war between good Christians and the evil Glandelinian army. The Glandelinians, you see, use child slaves, whom they beat and torture. At one point, a child's rebellion breaks out, led by the seven pure, virtuous, and beautiful Vivian Girls. As Darger's life would change, so would his story, and he even worked himself into the narrative at one point, casting himself as a brave American who led the international cause against the enslavement of the Vivian Girls and other children.

Yu's film suggests that Darger's traumatic childhood inspired the bulk of his work, and it's seemingly difficult to argue otherwise. HIs mother had died giving birth to a younger sister whom he'd never know. He spent his childhood first at a rough orphanage, doing backbreaking labor on a farm for 12 hours a day. Then, because of his odd behavior, he was sent to an asylum for troubled children, where he was tormented by nuns. All of these elements are weaved throughout the narrative of Realms of the Unreal. His fear and anger towards adults who mistreated him as a child acts itself out against the epic canvas of a holy war, with heroes and angels fighting and dying to defend the rights in kids to be kids.

But the film is far more nuanced and complex than this description would indicate. Yu gives us voice-over readings from Darger's autobiography and stories over animations based on his artwork, and the result isn't so much a peek inside Darger's mind as into the world he created around himself. The Vivian Girls, over years of writing, became a part of his personality. His neighbors speak in the film about hearing Darger speaking to himself in a variety of voices. One theorizes that perhaps Darger was replaying arguments he was too meek to engage in during the day. But I'd say it's possible he was enacting his stories, giving voice to the Vivian Girls and their enemies in an attempt to bring them a bit closely to his mundane everyday reality.

I was reminded of stories I'd heard about J.R.R. Tolkein and the creation of Middle-Earth. At first, it was just the setting for his initial story, "The Hobbit." But, as he said, "the tale grew in the telling," and before long, he was composing a dense collection of work set in the fictional world of his creation, from the Lord of the Rings trilogy to "The Simarillion," a history of the Elves. And certainly there were details of Tolkein's own life experience sprinkled throughout his stories. His service in WWI, his hatred of technology and love of nature all became themes of his work. These elements don't conflict with Tolkein being considered a serious writer. We don't hear these details and think to ourselves that the man was crazy or unstable.

Yet there was something about Darger's unique devotion to his work that crosses that line between genius and madness. He definitely didn't require supervision, and probably would have lived a happier life had he not suffered the indignity of being committed at such an early age, but there is undeniably an undercurrent of insanity to some of his rambling writings and his lifestyle. For example, many of the female child slaves appear nude in Darger's paintings, and all of them have penises. Is it possible Darger was not aware that women and men have different sex organs? Though it's impossible to know for certain, there is no evidence presented in the film that he ever engaged in sexual activity of any kind, and in his writing, it seems evident that he didn't understand the meaning of the term "rape." Yet he had such an inquisitive side, and was such an avid reader, it seems entirely improbably he would never have encountered a description or image of a vagina.

These are some of the unanswerable questions about the life of Henry Darger. Yu's wonderful film is playing right now in one theater in Los Angeles, and I can only hope it will open wider for more people to see. Glancing around the Internet, I see that there are already books and exhibits available about Darger's life, and I'm simply uncultured for not having heard of him previously, so maybe you're already up on all this stuff. I found it entirely fascinating.
Interesting that I saw it just a few days after seeing Ray, an utterly artless piece of tripe that also examines the life of an artist through the filter of his traumatic childhood. But whereas Ray is content to explain away all of its subjects behavior through lame flashbacks, Realms of the Unreal allows the past to remain what it obviously is: a mystery.