I know I intended to reserve this column for older movies, and Friday Night Lights was released only last year, but damn it, this movie deserved some more recognition. I missed it in theaters because it's about football, and I don't give two shits about football or any other sports. And now I'm sorry that I did, because it's that rare sports movie that makes athletics feel riveting and meaningful, and not just like some mechanization of the plot.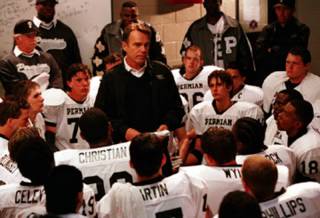 The true story at the heart of Friday Night Lights concerns the 1988 football season for the Odessa, Texas Panthers, a small-town West Texas high school football team vying for the State Championship Title. And Odessa, Texas is a town very much concerned with high school football. In much the same way as the far inferior Varsity Blues, Friday Night Lights spends a good deal of its initial hour demonstrating the community's deep and abiding love for the sport of football, and their intolerance of coaches and players who do not perform to their exacting standards. So, when Coach Gary Gaines (Billy Bob Thornton) makes a questionable call and allows a star running back to play despite an insurmountable lead, he comes home at night to find "For Sale" signs on his lawn.

We also see how much the sport means to the young athletes who play for Gaines. The aforementioned running back, Boobie Miles (Derek Luke, in a confident and charismatic performance), has chased the fame and fortune of pro football his entire life. Don Billingsley (fine newcomer Garrett Hedlund) pushes himself to please his domineering, alcoholic father (country music star Tim McGraw). And Mike Winchell, the quiet, troubled quarterback, fights through pain and self-doubt for the sake of his mentally ill, football-obsessed mother.

These are classic sports-movie situations, and the film's rousing finale, finding the Panthers battling the seemingly unstoppable Carter Dallas team, could be lifted from any number of other sports films, from Hoosiers to Rudy to Remember the Titans. But what makes the film rise above the material is the sincerity of the performances, particularly from the young actors on the football field. These are not the sort of emotive, overripe turns we typically get in teen sports movies. There is none of the snarky, sophmoric humor that tainted Varsity Blues, none of the faux-earnest bluster of Remember the Titans and none of the tooth-gnashing chauvanist pyrotechnics of Any Given Sunday. Just a raw, gritty, realistic take on the hopes, triumphs, pressures and failures of a group of kids from a small town playing a harsh game with all they've got.

Director Peter Berg (who also crafted the far sillier but similarly underrated Very Bad Things) allows the material to take center stage. He gives the film a striking, unique look (aided by the stark cinematography of Tobias A. Schliessler, who has made over 15 films, none of which I have seen. The subdued harmonies of Explosions to the Sky on the soundtrack also perfectly compliment the action.

As someone not invested in the natural rhythms of sport or smitten with the rough pageantry of football, it takes a good deal of work to make me care about the outcome of a fictional contest. Berg succeeds by making me invest dramatically in the characters and situations. The hits on the field hurt not because of a crunching Foley effect on the soundtrack (as a director like Oliver Stone might provide), but because I know this kid needs to play to get out of Odessa, Texas, to make something of himself greater than his father and his high school.

It's rare to see a mainstream, formula picture that works on this level. Even though I could feel the lackluster screenplay verging back on melodrama again and again, Berg and his able cast continually resist this temptation, keeping the action tense, matter-of-fact and subtle. It's a refreshingly honest sports movie, and one that I suspect will find its way into the pantheon of great contemporary American sports films.